Attractions Around Khao Lak
---
White Sand Beach
White Sand Beach is located in the northern part of the vacation destination and is perhaps due to its name one of the most famous beaches in the region. Especially at lunchtime, the White Sand Beach shines really bright and with a cool drink at one of the cozy beach bars, the dreamlike scenery can be enjoyed twice. This beautiful sandy beach is one of the most beautiful beaches in Khao Lak and is definitely worth a detour.
Ton Chong Fa Waterfall
This waterfall is part of the Khao Lak-Lam Ru National Park. There is a stream originated from Khlong Bang Niang and cascades down into a 5-tiered waterfall, with water running all year. Its surrounding area is shady and provides home to rare animals like Malayan tapir, hornbill.
Nang Thong Beach
One of the most beautiful beaches in Khao Lak! This beach is a true postcard motif and the tropical trees together with the rock formations conjure up a particularly impressive backdrop. You will find a variety of good hotels, restaurants and bars, which provide refreshments during an extended walk on the beach
Royal Thai Navy Third Fleet Turtle Nursery
This aims to conserve sea turtles from extinction by providing assistance to injured and sick turtles, and it is the ideal place to watch turtles in their various stages of development, where the center organizes tours A tourist attraction that provides visitors with insights into turtle behavior and breeding, making it a fun place to visit with children in Khao Lak.
International Tsunami Museum
The International Tsunami Museum was created by students in Phang Nga, Thailand to teach about the cultural and psychological responses associated with the affects of Tsunami's. The museum enabled the students to study both recovery and trauma in a meaningful way in addition to enabling direct contributions to the communities requiring help.
Khao Lak Lighthouse
Khao Lak Lighthouse is another unseen attraction and stands out in the middle of the sea at Nang Thong Beach, Khuk Khak Subdistrict, Takuapa District, Phang Nga Province. This lighthouse was built after the 2004 tsunami. to warn in times of risk of a tsunami.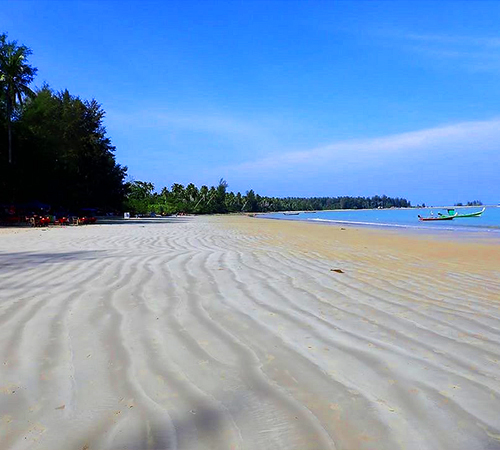 Coconut Beach (Pak Weep Beach)
Coconut Beach, also known as Pak Weeb Beach, is truly unique in this region and definitely belongs on the list of the best beaches in Khao Lak. It is located in the north of the resort and together with White Sand Beach it is a part of Pak Weep coast. With its light fine sand, large palm trees and beautiful crystal clear sea, it is visually very different from the other beaches in the area.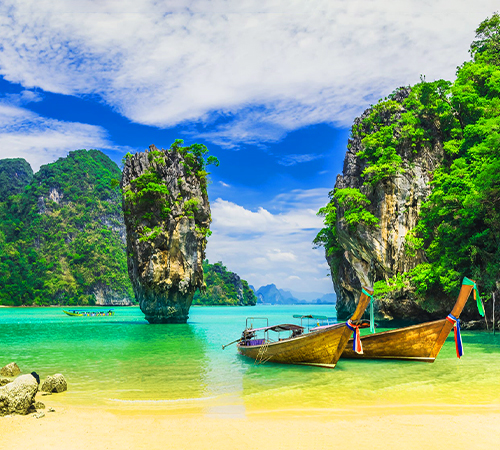 James Bond Island (Ko Khao Phing Kan)
James Bond Island is located in Phang Nga Bay and its local name is Khao Phing Kan. Then, why it is called James Bond Island, actually this name came after the shooting of the James Bond movie in 1974 "The Man With the Golden Gun". After that, it became a famous tourist destination in Thailand. The famous movie series "Star Wars: Episode III- Revenge of the Sith" also shot here.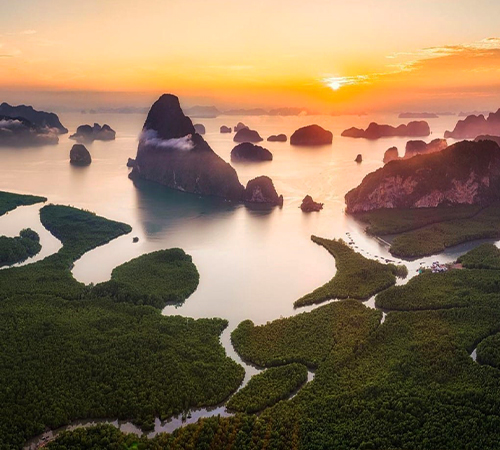 Samet Nangshe
It is located in between Krabi and Phuket. Going on a boat tour is the best way to explore the islands of Phang Nga bay and see the impressive limestone cliffs from up close. The view is about two kilometres of mangrove forest and a chain of islands that stretches as far as the eye can see in both directions. It's such an impressive sight to see the islands appear out of the dusk.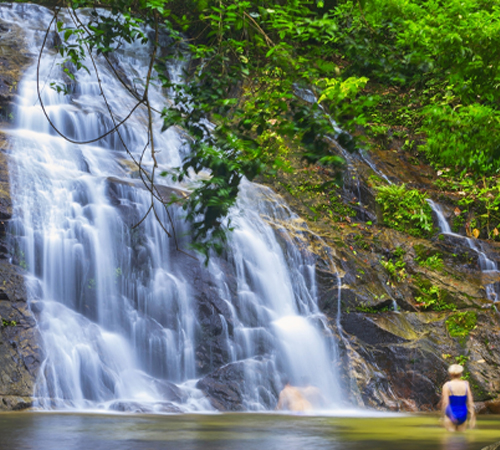 Khao Lak Lam Ru National Park
This National Park is is home to numerous species of plants, birds, animals, and marine life. Spread over 125 square kilometres, the Khao Lak Lam Ru National Park is a beautiful amalgamation of sea cliffs, beaches, hills, dome-shaped granite mountains from the Cretaceous period and also tropical evergreen forests.
---
For more information, please send an email to conference@g7networks.com